Park and Ride Service Launches for Llandough Hospital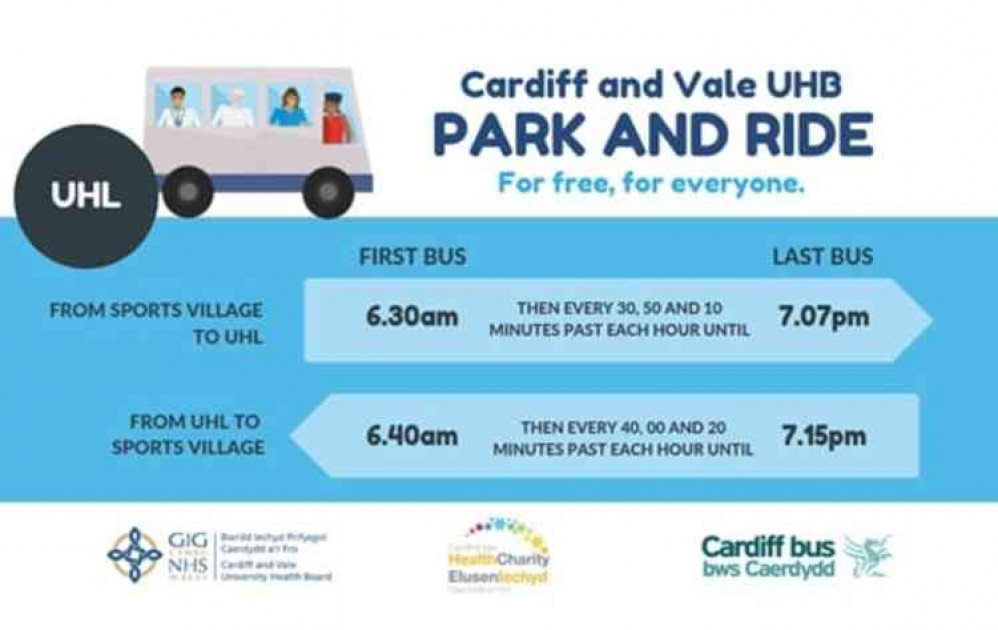 A new Park and Ride service will be launched on later this month between the University Hospital Llandough and the sports village.
The decision comes from additional car parking needs at University Hospital Llandough as well as the proven success of the Park and Ride service in other hospitals.
Since its introduction in early 2017, the Park and Ride service at the University Hospital of Wales has proved incredibly popular.
The Park and Ride service for University Hospital Llandough is free of charge for patients, visitors and staff to use.
The route runs from the old Toys R Us car park, which is near the International Sports Village, off Olympian Drive in Cardiff.
The service runs every 20 minutes and is only a short 10 minute journey from the car park to the hospital.
The service runs on weekdays and starts at 6:30am from Toys r Us car park and runs every 20 minutes up until 7:07pm. The return service leaves UHL starting at 6:40am up until 7:15pm.
Funding for this service was kindly provided by Cardiff & Vale Health Charity which promotes health and wellbeing in line with "A Healthier Wales".
Director of Capital, Estates and Facilities, Geoff Walsh said: "Over the last year, we have seen a huge difference in the reduction of onsite traffic at University Hospital of Wales and we envisage that this will be reflected at University Hospital Llandough.
"The Park and Ride service will make it easier for our patients, staff and visitors to get to the hospital, for work, appointments and to visit their loved ones.
''I would actively encourage everyone who currently drives to UHL and parks onsite to consider using the new service.
"By expanding the service to UHL, we're enabling more people to use sustainable public transport which will reduce environmental emissions, travel time and on-site congestion, and improve parking availability thereby easing patient, visitor and staff stress with regards to parking and improving their experience of the service.
"I would like to extend my sincere thanks to Cardiff & Vale Health Charity for funding this new service which will no doubt have a huge impact on the Llandough Hospital community."
Since its introduction, feedback about the Park and Ride Service at UHW is very positive, with one staff member saying, "The Park and Ride has changed my life.
''I used to have to leave my house every morning at 6.30am to be on site at 7.10am at the latest to get a parking space.
''I don't start work until 8am but if I arrived any later all the general parking spaces had already been taken.
''It was very stressful. Booking a doctor or dental appointment used to a nightmare due to the parking, and therefore I would have to book a whole day's annual leave to attend a routine appointment.
''I now leave my house at 7.15 and still get into work in time.
"As a final note, I have made some lovely new friends on the bus from all different departments. It is a very sociable bus trip and puts me in a good mood for the day ahead. Thank you for this service, it has improved my quality of life immensely."
Cardiff & Vale Health Charity will also soon be funding a shuttle bus that will travel between the UHW and UHL sites.