UP CLOSE with Penarth's Co-op store manager
"It is great to feel valued for loyalty to the business," said Co-op store manager Gary Stent
---
By Ellyn Wright
Posted: Thursday, 09th September 2021 9:56 am
---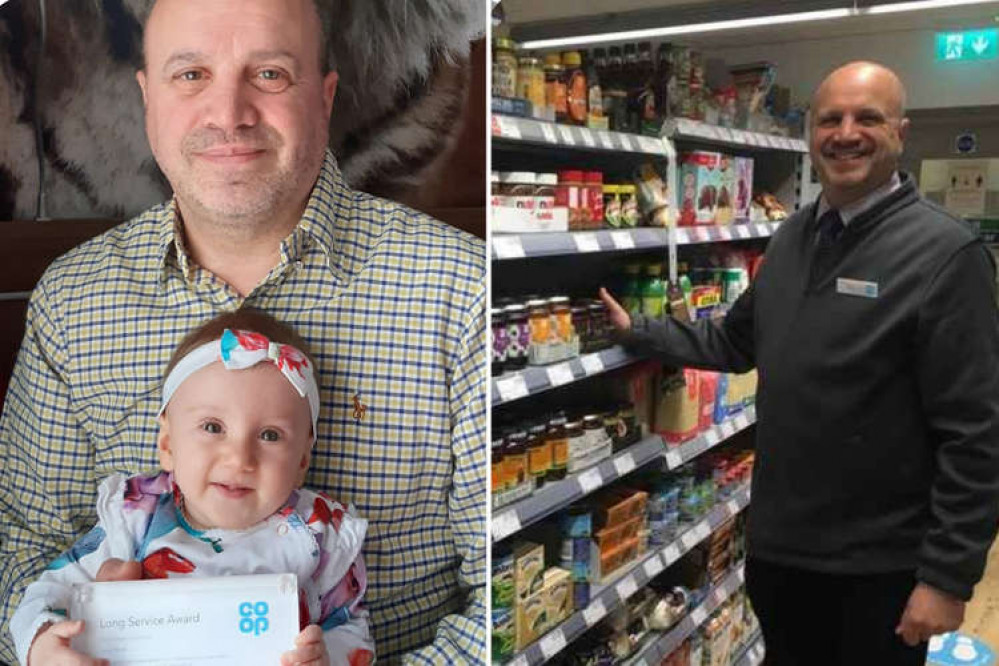 Penarth Co-op store manager Gary Stent
Local initiatives
Penarth Nub News aims to support our community, promoting shops, businesses, charities, clubs and sports groups.
We will be profiling some of these businesses and organisations regularly in a feature called 'Up Close in Penarth'.
Today, we chat with Gary Stent, the renowned store manager of Co-op's Windsor Road store in Penarth.
A lot has happened since Nub News last met with Gary. Between September 2020 and today, Wales has emerged from, re-entered and then emerged again from lockdown.
Penarth has selected a new mayor, been chosen among the top five places to live in Wales and seen The Turner House gallery finally reopen.
Also, in this nine-month window, Gary became a father to a little girl named Ariana and achieved a Long Service Award from the company he loves. He has now been a Co-op colleague for a remarkable 20 years.
We took this opportunity to look back on Gary's life and career so far.
Early years and customer service beginnings
Although Gary is well-known in the town, few are aware that he was born and grew up in Germany, where his military father was posted.
After a brief stint in Northern Ireland, the family then moved up to Whitley Bay outside Newcastle - an exciting place to be a teenager in the 80s.
Immediately after finishing school, Gary embarked on a career in customer service. He enrolled on a Youth Training Scheme with a large supermarket, a course that was supposed to take two years to complete. Gary graduated after two months, the shortest time it had ever taken to complete the scheme.
He puts this down to the "hard working and dedicated" attitude he has maintained throughout his life.
"I've sort of done everything the old school way really," he tells us. "It wasn't about coming out of university with eight degrees - it's called graft and always doing my best for the customer."
Gary is a naturally friendly and outgoing person and working in various hospitality roles in his early career helped him to hone his innate people skills.
"It's about reading people and understanding what type of person they are," he continues. "That's what I love about the Co-op. They're so focused on customer service and community."
A match made in heaven
Do people choose their employers or do their employers choose them? Whether Gary picked the Co-op or vice versa, it is undeniable that the two are perfectly matched in terms of ethos and values.
We ask Gary what he likes most about the company he has served for so long.
"The community projects," he replies without hesitation. "The membership scheme is great and the Local Community Fund causes really make the store a part of the community.
"It's all about putting the customer first, which is the thing I care most about. They're always trying to find ways to get us to spend more time with customers, and that's what I love to do."
Of the 20 years Gary has been serving customers, the most recent proved the most challenging. But he and his team have proven their community credentials time and time again.
Besides raising over £700 for Co-op's national charity partner, mental health charity Mind, they have consistently gone above and beyond by undertaking various charitable projects outside of work.
Customer team member Sean Leach spent much of his spare time throughout the pandemic baking cookies and pastries for local hospitals, schools and small businesses free of charge.
Co-op Funeralcare colleague Howard J Provis made his 1000th blood donation to the Welsh Blood Foundation.
And, soon after lockdown was first imposed, Gary and colleagues began shopping for and delivering food to shielding Co-op regulars. Among them was a breast cancer survivor named Bev, who told Nub News: "He's a credit to the Co-op, and he's gone over and above anything anyone could expect him to do.
"It started off with him helping me out of pure kindness but now I can honestly say we're friends."
Supported by his team, Gary would deliver groceries as late as 10pm on busy evenings. The fact that he commutes 50 miles daily from Ogmore Vale is a testament to the selfless nature of the task.
20 more years?
Gary was handed the long service award by Business Area Manager Giles Jenkins. He received a gift pack containing a pin badge and a £50 gift card, but it is recognition that matters most to him.
"It is great to feel valued for loyalty to the business," he told us proudly.
A quarter of a century's service is the next career celebration award on the horizon for Gary, but do not be surprised if you see him picking up his 40-year certificate when 2041 comes around.
Co-op membership helps support your local community, with great rewards for you too. When you buy selected Co-op branded products and services, 2p for every pound spent goes to you and we'll give the same to local communities. Join us today online at www.coop.co.uk/membership or in-store.