Penarth Resident Knitting a Rainbow from Dingle Park to Llandough Hospital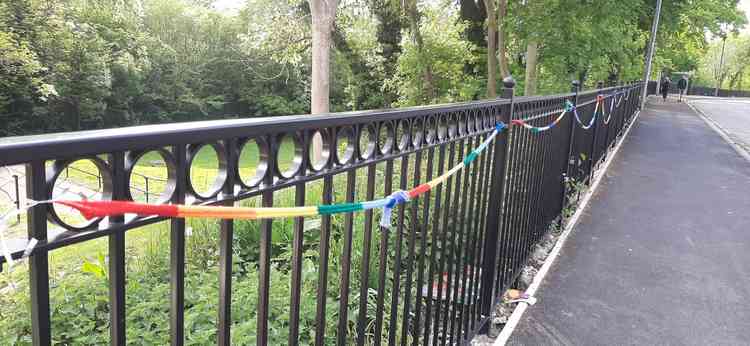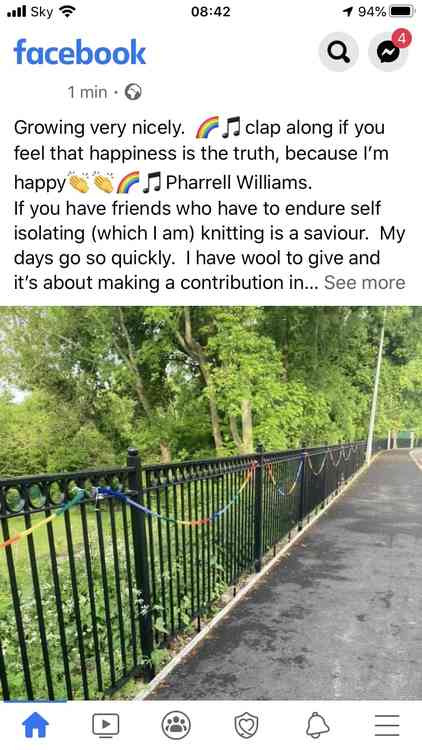 In Penarth, a local resident has started the 'Knit a Rainbow for the NHS' appeal to raise money for the Cardiff and Vale University Health Board.
Christine Kerr has set herself the mission, along with a group of volunteers, to knit 2 metres of rainbow a day starting from Dingle Park until it reaches Llandough Hospital.
She wanted to show her appreciation for the local NHS teams despite being unable to leave her home.
Christine said: ''I had the idea about a week ago. I have been in self-isolation since before the lockdown due to a lung condition.
''I'm knitting about 2 metres a day and post on Facebook daily with photos and also a positive song of the day.
''I have a Just Giving Page which explains that I'm knitting for the Cardiff and Vale Health Board.
''The eventual aim is to arrive at Llandough Hospital to show appreciation for the total dedication of the Doctors, nurses and all staff whatever they do.
''I've been appealing for donations and volunteers. So far I have around 6 - 8 volunteers and around £260.
''This has been growing daily and I have a few elderly people like me who have to self isolate themselves.
''I know from the news that there isn't anything for lonely and isolated people to do.
''Since I started this project it has changed my life and given me purpose. I wake up every day knowing at the end of the day I will have achieved something and will do so today.
''I have wool available and have given out several packs to knitters and contributions will be coming in over the next few days.
''This is an opportunity to do several things. It gives Penarth people the opportunity to say thank you to the local NHS but also knitting can relieve stress and anxiety and can help the elderly make a positive contribution while occupying their time.''
You can contact Christine at [email protected]