How Andy clothed the Pirates of Penarth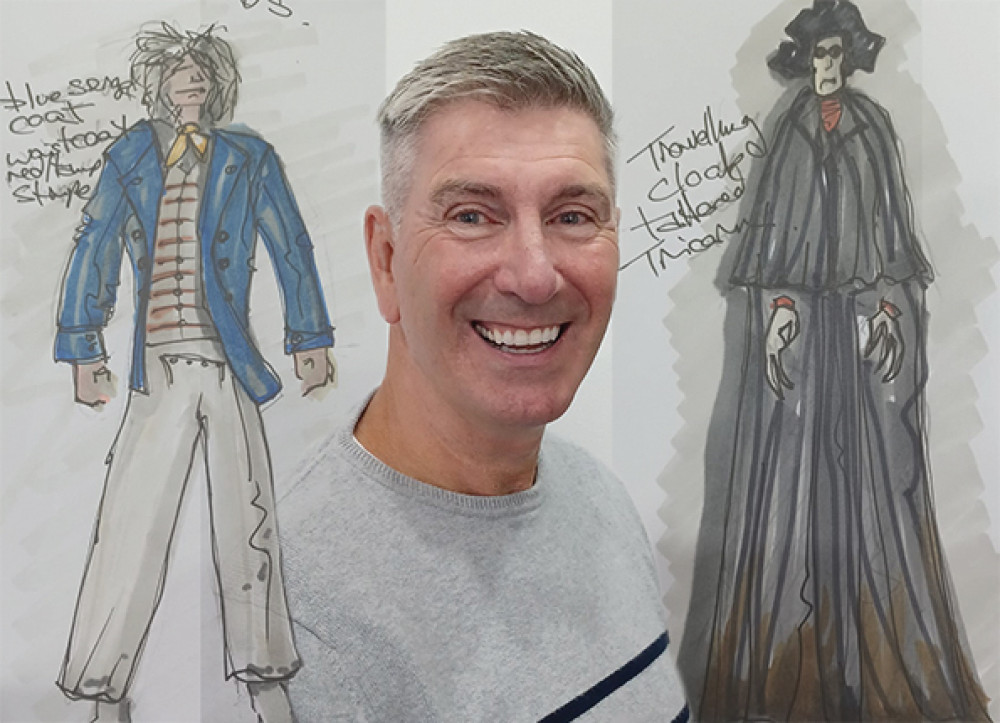 Andy Bradshaw and a couple of his designs.
Three times BAFTA winner, Andy Bradshaw has designed the costumes for Penarth Operatic & Dramatic Society's latest production of Treasure Island. In advance of the play's opening later this coming week at the Paget Rooms.
Some of the costumes are currently on display in the window at Hamptons in Ludlow Lane in the town centre.
We spoke to Andy about his role as costume designer for the production. "I trained in theatre design at the Royal Welsh College of Music & Drama and have enjoyed a long career as a production designer for both theatre and television. So when PODS announced that Treasure Island would be its next drama production I jumped at the chance to design the costumes.
"Set in the 18th Century, the play moves from England to aboard ship and finally to Skeleton Island which we assume is somewhere in the Caribbean. As a tale of piracy and treasure it was important that the costumes looked like real working clothes and not a fancy dress version of pirates.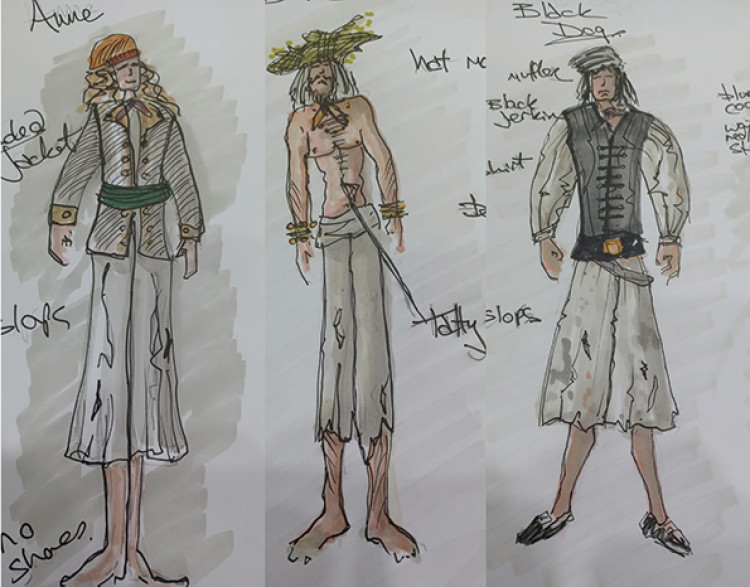 Three more of Andy's costumes.
"Researching the period you soon discover a lot about the types of fabrics, the colours and practical issues. The 18th Century was still a period where colours were fairly muted and in Britain natural dyes were very much still in use, hence the colour palette of browns, greens, black and rust. Of course our characters have sailed the world and so silks and fabrics dyed in more vibrant colours may have been available to them.
"Many images of swashbuckling pirates show them in long coats and embroidered waistcoats but these were reserved for their time on dry land where they would put on their finery to show their wealth. On board they wore loose fitting clothes that enabled them to move about the ship easily. With this in mind, I wanted the costumes to be layered so that as we head from a chilly Bristol to warmer climes they begin to lose layers. By the time we get to the island they are down to shirts and waistcoats or just trousers.
"I initially produced a series of costume sketches based on clothing of the period and with the set designer and lighting designer came up with a look for the entire production. We decided that we would make a lot of the costumes as it was important that they looked well-worn and so once completed we attacked them with wire wool, spray paint, turmeric and tea bags!
"The first thing that many of the actors noticed at the first fitting was the weight of the costumes and many felt that it helped them with their performances. The fact that most of the cast are wearing extremely worn clothing was also a help in developing their characters, real people in real clothes."
Having completed what appears to be a huge undertaking for an amateur theatre company, we asked Andy what was next for him. "There's no peace for the wicked" he joked, "I'm already part way through designing the set for Chess, the musical which PODS are staging in May, so I'm going from costume to scenery!"
Treasure Island is on at the Paget Rooms from Thursday 23 to Saturday 25 March and tickets can be booked online at www.ticketsource.co.uk/pods