Refurbishment of Penarth play area following £120,000 investment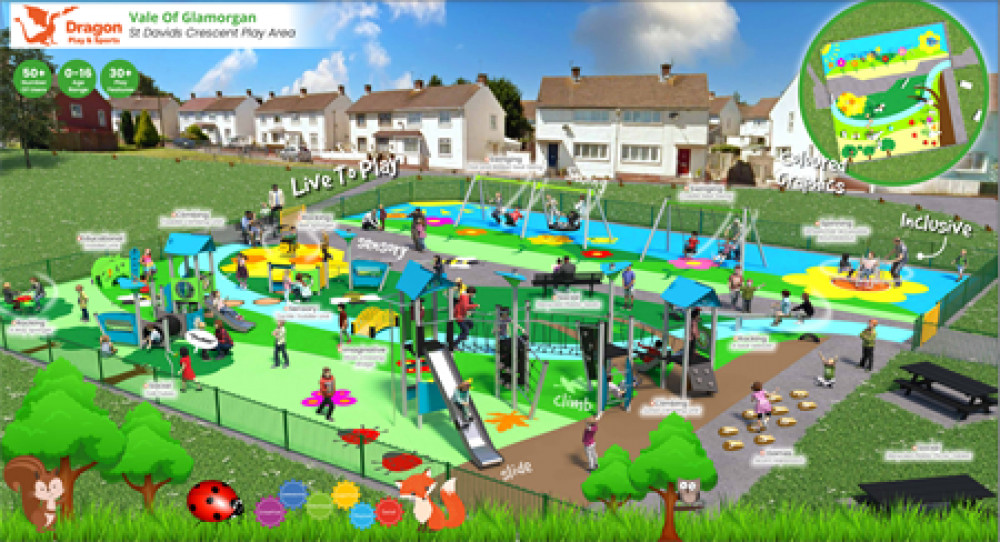 Children in Penarth will soon be able to enjoy a new and upgraded play area at St Davids Crescent following a £120,000 investment by the Vale of Glamorgan Council.
The money, partly from Section 106 funding, will go towards upgrading the current play equipment and helping to ensure that the space is suitable for a range of ages.
Section 106 funding, which is the contribution to community projects paid by developers when they seek planning permission, can be used to improve public transport, walking or cycling routes, building play areas, providing educational facilities or be put to a range of other uses.
Included in the plans are new swings, an inclusive wheelchair roundabout, a see-saw, a toddler climbing unit, an educational toddler unit and more, all on a colourfully and playfully designed surface.
Many of the items are inclusive and appropriate for children with additional needs. In addition to the works on the play area, the Council will also plant trees.
While plans are being finalised, works are scheduled to begin this November.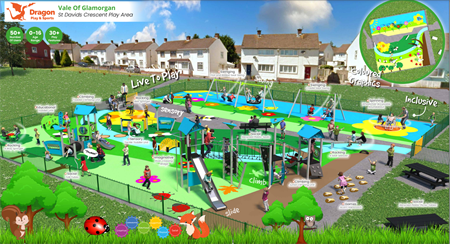 Image of plans for St Davids Crescent Park. Image shows slide, swings, roundabout and more.
The redevelopment is part of a widespread programme to improve play areas across the Vale and follows a number of similar recent works at sites such as Windmill Lane in Llantwit Major as well as Clos Peiriant and Central Park in Barry.
Cllr Mark Wilson, cabinet member for neighbourhood and building services said: "It's wonderful to see the transformations to childrens play areas across the Vale. The plans for the works at St Davids Crescent will provide a safe, fun space for children to explore and enjoy.
"There's a range of new, upgraded equipment, and we will also be planting trees nearby
"These planned improvements are the latest works following on from similar projects completed elsewhere across the Vale."